DeepMind 12D – Review and Demo by Sean Divine
I'll start this review by saying that I've owned many digital rack mount synths over the years: MS2000B, Virus B, Nord Lead 2X, Radias, JP8080 to name a few. Alas, none of these synths has resided in my studio for long. I've always felt like the inconveniences of using a digital hardware synth (running midi cables, sequencing external instruments, maintenance) was not worth the hassle, especially given that modern software plugins could replicate almost any of the sounds created with this hardware. Still, I appreciated the hands-on approach with synthesis and much prefer this workflow to tweaking sounds with a mouse. I also had a growing curiosity for analog synthesis. Not needing another keyboard, I was disappointed to find the lack of options for an analog poly synth in rack mount form.
So what could possibly convince me to fill this empty 6U rack space in my studio with a synth once again? Perhaps 12 voices of true analog sound in a rack-mountable synth? Let's take a closer look and listen to the DeepMind 12D…
I think anyone will appreciate what the DeepMind 12D has to offer in terms of sound and features. The analog oscillators and filters, along with 12 voices of polyphony are capable of producing impressively fat and lush tones. Paired with a rather extensive set of professional effects (including custom reverbs from TC Electronics), you have an extremely versatile synth that's also a lot of fun to program. I also appreciate the efforts Behringer has taken to make this analog synth welcome in the digital age, loading it with new technology like a software remote for iOS / Android and built in wi-fi.
Key Features

True 12 voice analog synthesis – Doug Curtis style analog VCFs – Dual oscillators and LFOs per voice – Four dedicated effects engines – Over 30 types of FX – Custom reverbs by TC Electronics – 8 channel modulation matrix – 32 step sequencer – Advanced arpeggiator – Built in Wi-Fi – Remote control editor for Mac / PC – 1024 preset locations
That said, the DeepMind 12D is not perfect. Some of the menu gestures needed to accomplish simple tasks like navigating categories or opening the preset browsers feel a bit awkward to me. While there are a plethora of effects onboard, I found some that were particularly lackluster (the reverbs being the true standouts). I would have also loved to have seen audio inputs for utilizing the effects and filters on the DeepMind 12D for external audio. It's also worth noting that there are not one but two fans on the synth to keep things running cool. While this would be a welcome addition for a hot summer live setting, this could prove to be a major annoyance in a quiet studio environment. Luckily, Behringer added a feature in the Global menu (shown in the video review) which allows you to adjust the fan speed or completely turn them off if you desire.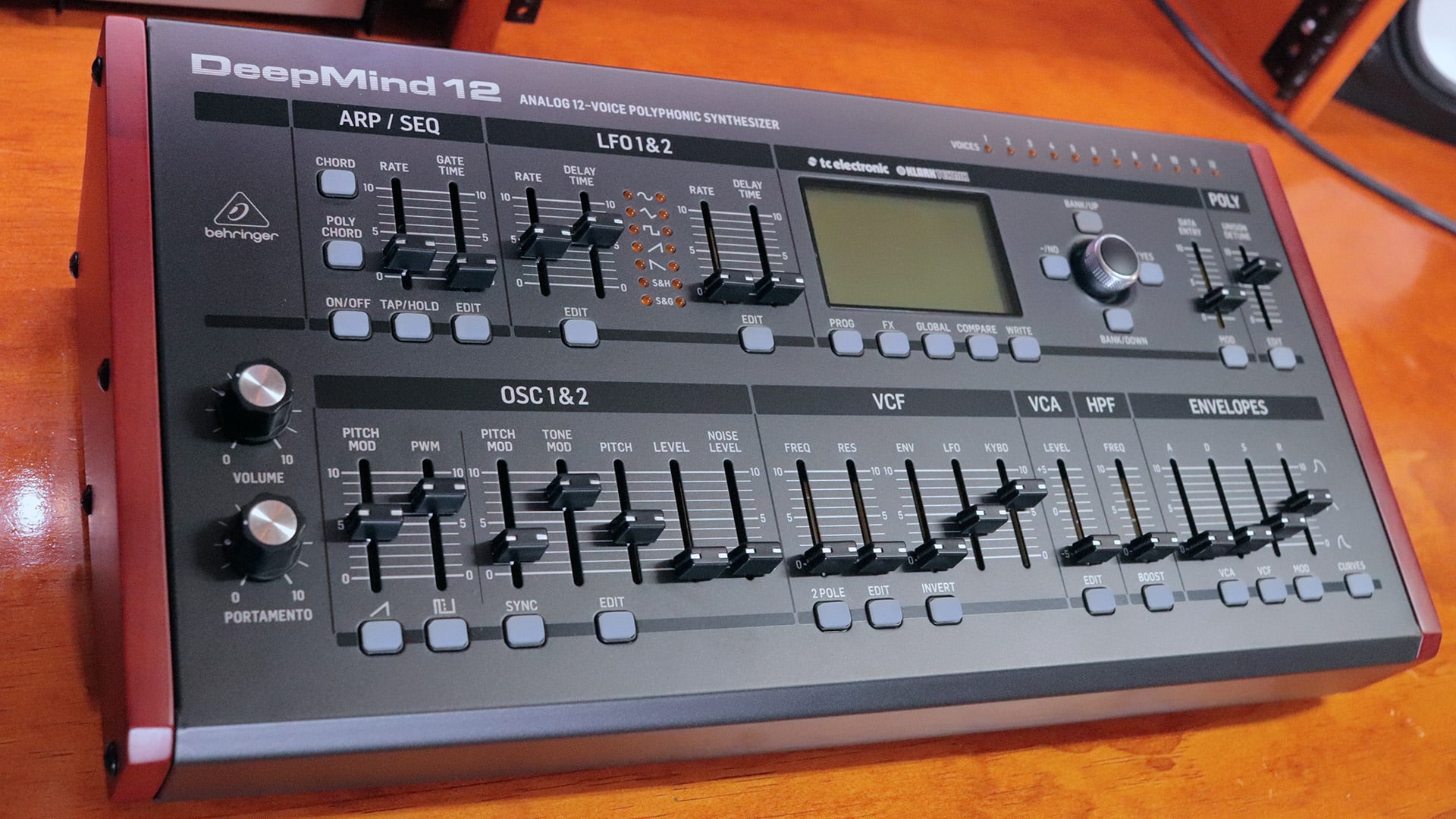 Beyond these relatively minor issues, my other concerns deal mainly with build quality. Not that the DeepMind 12D doesn't sound, feel and look like a professional instrument because it absolutely does. Yet given the competitive price point and amount of features packed in the synth, I can't help but wonder; did Behringer cut costs in areas that could affect long term reliability?
Overall, I've been pleasantly surprised and thoroughly impressed by the DeepMind 12D. It's true analog sound and modern technologies allow it to play a new role in my studio, while other digital hardware synths simply felt expendable. I can confidently say the DeepMind 12D is a welcome addition to my studio rack and I hope it will hold up for many, many years.
So, what do you think? Does it have enough appeal for you to consider this relatively affordable new face in the analog synthesizer world?
Behringer DeepMind 12 Desktop on Amazon