Rode introduces it's first-ever audio interface with the incredibly affordable, studio quality AI-1

Rating: 9 (out of 10)
MSRP: $129 USD
rode.com/ai1
 Pros
-Excellent preamp
-Direct monitoring for low latency
-Solid build quality
-Studio quality headphone / balanced outputs
-Incredibly affordable
 Cons
-Limited I/O
I receive messages often asking what affordable audio interface I would recommend. Admittedly, I hadn't found anything on the market that I felt comfortable recommending until now. When I first heard the announcement that Rode would be entering the audio interface market, I was extremely curious to see and hear the AI-1 in action. Then, I saw the price and let's just say I was skeptical…
The Rode AI-1 is a simple and easy to setup audio interface with 1 Neutrik XLR and 1/4″ combo input, 48V phantom power, discrete headphone output and balanced line level outputs. The interface comes equipped with a USB-C connection, although it ships with an adapter for use with older USB connections also. Setup on Mac was completely plug-and-play, no drivers to install and it showed up in the OS / DAW settings immediately.
After using the AI-1 extensively over the past few weeks in my studio, I've been impressed with the amount of quality Rode has packed into this unit for the price. My biggest concern was the mic preamp (even recording it in a shootout with a much more expensive interface) and it has performed admirably. It's clean, quiet and sounds fantastic tested with the NT-1 microphone and an electric guitar. In a market that seems to cut costs first in this area, it was a pleasant surprise to hear the AI-1 preamp perform so well.
One of the best things about the Rode AI-1 is it's simplicity and execution. There are only 2 controls on the front panel – 1 for adjusting the level of the mic / line input and the other for adjusting the level of your headphone and speaker outputs. If you press down on the input control, it will activate 48V phantom power for mics in need. Pressing on the right output control will activate direct monitoring. This provides latency-free, direct monitoring through the headphone jack and is an awesome feature for songwriters (especially rap artists focused on precise timing). Another notable feature is that the AI-1 will automatically turn off the speaker outputs when headphones are plugged into the front jack.
Build quality is exactly as you've come to expect from Rode. It's a rock-solid metal build with rubber bottom to keep it from slipping off your desk during recording sessions. The audio conversion quality in my tests is excellent and after having the AI-1 hooked up in my studio for many days, I forgot I was using it in in place of a much more costly interface. The line level outputs to my studio monitors (Event 2030) have ample gain with no noise or noticeable coloration.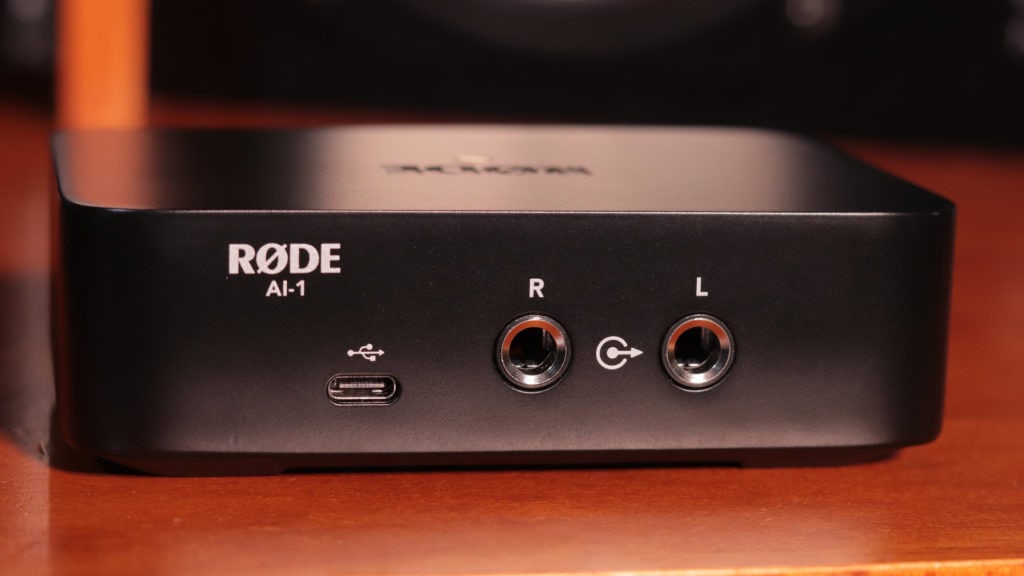 With just how impressive the AI-1 truly is, it got me wondering what would be possible if Rode made it BIGGER? I'm talking more inputs and outputs, midi implementation and expanded features for the pro studio. Don't get me wrong, this is the best interface I've seen in this price range and it's compact size makes it perfect for mobile recording. Still, I can't help but wonder if Rode will take what works so well with the AI-1 and expands it into a larger, more robust interface. Only time will tell…
I'm relieved to say I've finally found an affordable audio interface that delivers quality, even to the most discerning ears. I know the frustrations caused by many other audio interfaces in this price class first-hand and I won't hesitate to use the AI-1 on my own projects. If you're in the market for a budget-friendly, easy to use, rock solid audio interface from a brand you can trust, skip the others and go with the AI-1.
Purchase on Amazon
Rode AI-1: http://amzn.to/2DyWd5b
Rode AI-1 + NT-1 Studio Pack: http://amzn.to/2neYrA6