Waves Mixing Template for Logic Pro, Cubase and Pro Tools
Divine Mixing Waves Template is an all-new, customized mixing template using only Waves* plugins, designed for use with 3 of the most popular Digital Audio Workstations on the market: Logic Pro X, Cubase and Pro Tools. Waves Template was crafted by mixing and mastering an actual Hip Hop and R&B session from scratch.
Waves Template is the direct response to the demand from students wanting a template that most closely resembles Sean Divine's own mixing chains. As a longtime Waves user, he gives you a complete session template with over 50 custom plugin settings, precise leveling, reference notes and 4 vocal chains that have been fine-tuned to give you amazing starting points for a wide variety of recordings. Get full access to and learn from Sean Divine's settings, mixing workflow and routing options for your DAW with the professional sound of Waves plugins.
Key Template Features

Use of Over 50 Industry-Standard Waves Plugins – Over 40 Mixing Channels – 4 Custom Vocal Chains – Convenient Bussing and Effects Sends – 4 Reverb and Delay Auxes – Creative Instrumental Effects Settings – RMS Reference Notes (for precise leveling) – Advanced SSL EQ and Compressor Settings – Color Coding – Optimized Sidechain Compression Channel – Track Names & Labels – Preconfigured Master Bus Settings – And Much More
---
Includes All 3 Waves Template Versions!
No matter which studio or setup you find yourself in, you'll have access to each of these powerful templates for the DAW of your choice…
Product Info
Style: Rap, Hip Hop, R&B, Pop, EDM
Plugins Required (Not Included)*: Waves Gold, Waves SSL 4000
DAW Compatibility: Logic Pro X (10.3.2 or higher), Cubase Pro (8.0.40 or higher), Pro Tools (11.3.2 or higher)
Download Size: 2.3MB
Download Format: Logic Pro X (.logicx), Cubase Pro (.cpr), Pro Tools (.ptx)
Customer Testimonials
Please carefully review
plugin requirements
before purchasing to ensure compatibility with your setup.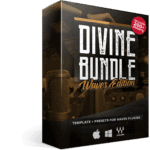 Included in

Divine Bundle – Waves Edition



*This product is not endorsed or supported by Waves Audio Ltd. and all trademarks are the property of their respective owners.
**This template
does not
include audio content.