World-Class Vocal Sounds. Instantly.
Divine Mixing – Vocal Chains is an exclusive collection of world-class vocal presets for Logic Pro X and Cubase. Get access to the professional vocal sound you've been searching for – without the need of extensive mixing experience or expensive hardware.
Utilizing both stock plugins and Waves Gold** plugins, Divine Mixing – Vocal Chains provides a versatile solution for recording artists and engineers seeking polished, professional vocal sounds spanning many different styles. Vocal Chains utilizes an array of powerful plugins with optimized settings that can be loaded with the click of your mouse. Simply apply the presets to your vocal tracks and instantly achieve the precisely mixed vocal tones Sean Divine has been developing for nearly a decade.
Effects Processing Includes

Compression EQ De-Essing Reverb Delay Distortion Saturation Multiband Compression Stereo Width Noise Gating Doubling Limiting Filtering Pitch Correction Bit-crushing Modulation Creative Effects And Much More This collection includes channel strip presets for both individual audio tracks and aux channels for maximum flexibility in your sessions.

Now Includes Both Logic Pro X + Cubase Pro Presets!
Product Info
Vocal Style: Rap, Hip Hop, R&B, Pop, Soul, EDM
Plugins Required (Not Included)*: Waves Gold
DAW Compatibility: Logic Pro X (10.4.1 or higher), Cubase Pro (8.0.40 or higher)
Download Size: 25MB
Download Format: Logic Pro X – Channel Strip Settings (.cst), Cubase Pro – Track Presets (.trackpreset)
Customer Testimonials
Please carefully review
plugin requirements
before purchasing to ensure compatibility with your setup.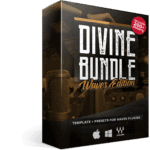 Included in

Divine Bundle – Waves Edition



*This product is not endorsed or supported by Waves Audio Ltd. and all trademarks are the property of their respective owners.