Complete Mastering Presets for Waves Plugins
1.5 Update – April 21, 2023
Includes "Remastered" presets with all 8 custom macros programmed for StudioRack V14
Full Compatibility with Waves StudioRack V14
×
Divine Mastering Chains is an exclusive collection of versatile mastering presets designed for Waves plugins. These chains are carefully crafted to help finalize songs quickly, easily and with precision. In response to audio engineers seeking more control and creativity in the age of automated mastering, Divine Mastering Chains provides a simple yet powerful approach to stereo bus processing.

Divine Mastering Chains will help you:
Achieve commercial levels while retaining dynamics
Enhance and add excitement to flat mixes
Identify and tame problematic frequencies
Optimize the stereo field
Adhere to loudness standards like True Peak
Utilizing industry-standard Waves Gold* plugins, these never-before-released presets allow you to take advantage of Sean Divine's trusted, proven master bus processing.
Effects Processing Includes

True Peak Limiting Multiband Compression Tape Saturation Bass Enhancement Analog-style Processing EQ Real-Time Metering Harmonic Distortion De-Essing Stereo Width Low-Level Compression Dithering Phase Relationship Filtering Noise Shaping And Much More
Presets include Channel Strip Settings (Logic Pro X), Track Presets (Cubase Pro), Waves StudioRack (Most Native DAWS) and individual settings for every plugin in all included chains!

For best results, mix levels should not exceed -6dB True Peak.
Ensure that your final mixes include headroom before processing with Divine Mastering Chains.
Please carefully review
plugin requirements
before purchasing to ensure compatibility with your setup.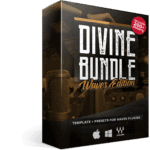 Included in

Divine Bundle – Waves Edition



**This product is not endorsed or supported by Waves Audio Ltd. and all trademarks are the property of their respective owners.