I receive many specific questions about the equipment and software I'm using in my project studio. Here I've compiled a complete list below (will try to keep this up to date). I want to re-iterate that I didn't get this all at once. I encourage you not to get overwhelmed with thoughts of what you "need" to be creative and make your best music. Hope this helps and have fun in the process!
Mixing + Mastering Plugins
Waves Ultimate – link
SSL Native Essentials – link
Izotope Ozone Advanced – link
FabFilter Total Bundle – link
SoundToys 5 Bundle – link
Lexicon LXP Reverb – link
Microphones
Shure SM7dB Dynamic – link
Rode NT1 5th Gen Condenser – link
Neumann TLM-103 Condenser – link
Soyuz 017 FET – link
Rode Broadcaster Condenser – link
Rode PSA Microphone Boom Arm – link
Rode NT1 Condenser – link
Shure KSM-32 Condenser – link
Cloud Microphones Cloudlifter – link
Mogami Gold Microphone Cable (Balanced XLR) – link
Monitoring
Adam Audio A8H Powered Monitors – link
JBL LSR-410 10-Inch Subwoofer – link
Sennheiser HD-25 Closed Back Headphones – link
Beyerdynamic DT 700 Pro X Closed Back Headphones – link
Beyerdynamic DT-770 Closed Back Headphones (80 Ohm) – link
TC Electronic Clarity-M Stereo – link
Auralex MoPad Monitor Stand – link
Instruments / Midi
Arturia Keylab 61 MKII Midi Controller – link
Access Virus Indigo 37-Key Synthesizer
Behringer Deepmind 12-D Analog Synthesizer – link
Roland TR-08 Drum Machine – link
Spectrasonics Omnisphere – link
Future Audio Workshop Sublab – link
Native Instruments Komplete 14 – link
Native Instruments Battery 4 – link
Output Arcade – link
Xfer Records Serum Synthesizer – link
Xfer Records Nerve Drum Machine – link
AAS Ultra Analog VA-3 – link
Computer / Desk
Apple MacBook Pro 14 inch 2021 (10 Core M1 Max CPU, 32 Core GPU, 64GB RAM, 2TB SSD)
CalDigit TS4 Thunderbolt 4 Dock – link
G-Drive Mobile SSD 2TB USB 3.2 – link
G-Drive Mobile 2TB USB 3.0 – link
Elgato Stream Deck 15 Key Controller – link
LCD Monitor Desk Mount – link
APANAGE Powered 11 Port USB 3.0 Hub – link
Logitech M720 Mouse – link
Laptop Stand – link
LG 32 Inch IPS 4K Monitor
Outboard Processing / Misc
Avalon VT-737sp Tube Channel Strip (Anniversary Edition) – link
Rupert Neve Designs Portico II Channel – link
SSL Fusion Analogue Processor – link
dbx 902 De-Esser (x2)
SSL UF1 (Master Controller) – link
SSL UC1 (Plugin Controller) – link
SSL UF8 (Mixer Controller) – link
RME UFX Audio Interface + AD/DA Converter – link
RME Remote Control – link
Furman SS-6B Power Conditioner (x2) – link
Hum Ex Ground Filter – link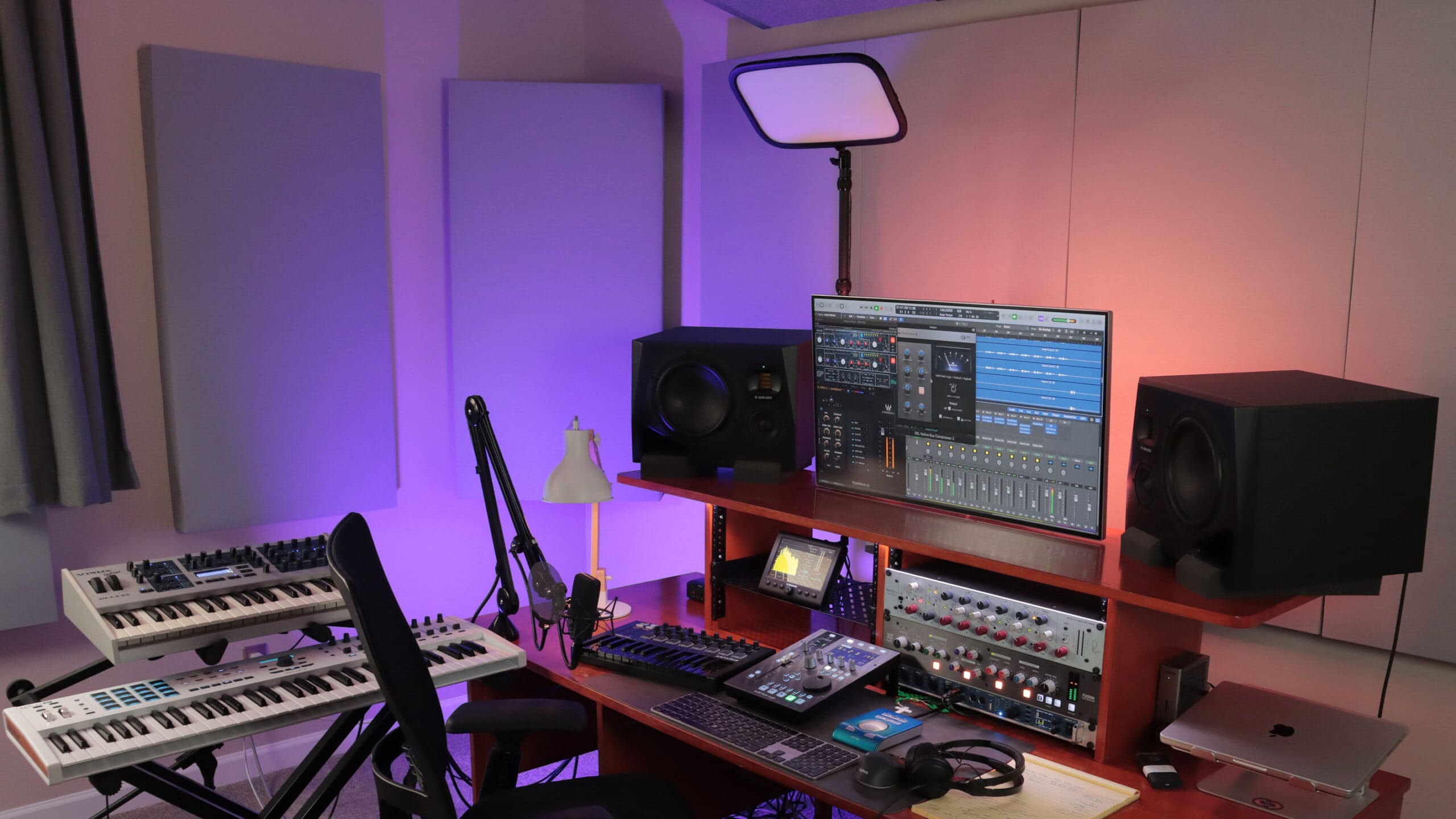 Disclosure: This page contains affiliate links to products and services I use and recommend. I may receive a small commission on sales through these links, at no additional cost to you. I appreciate your support as this helps me continue to create content!